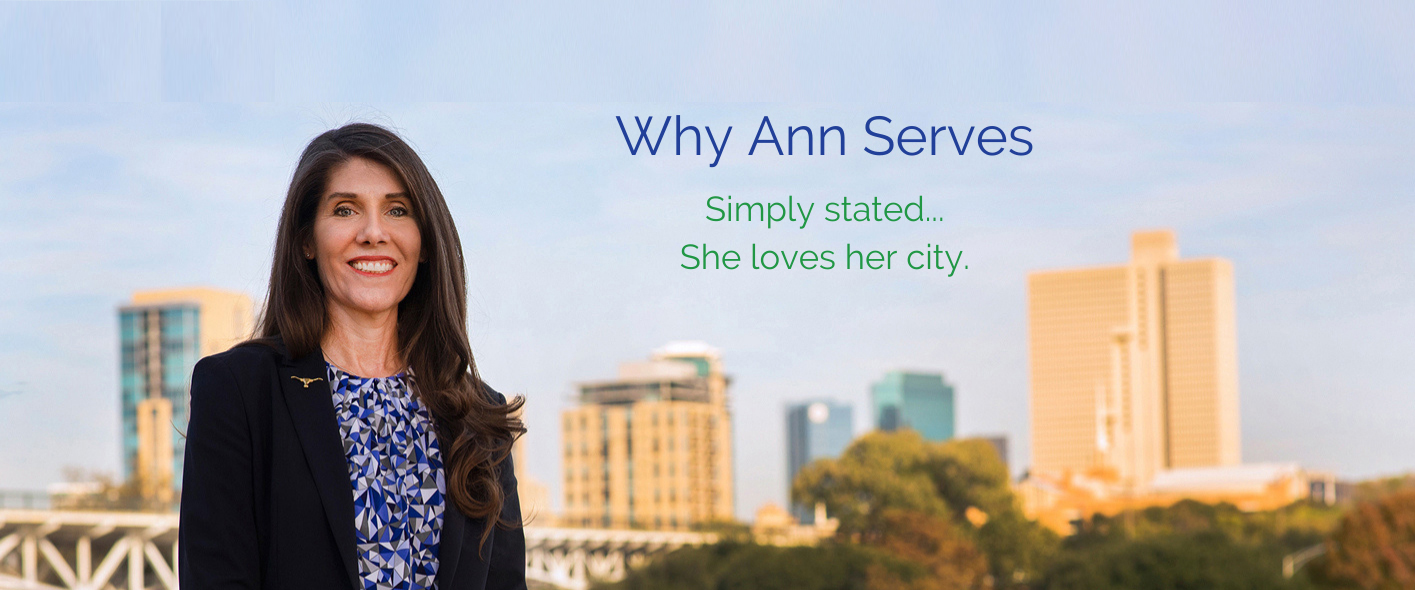 Good afternoon, 
First, I want to say "Thank you," to Mayor Betsy Price for her service, her passion for Fort Worth, and her love of its citizens. Mayor Price, I am proud to have served with you and appreciate the sacrifices you have made for the City of Fort Worth and its bright future.  
But Fort Worth's future isn't carved in stone. It is a future we must choose. We, the citizens of Fort Worth, must accept responsibility for creating the best city and community possible for all our citizens and ourselves, and we must put in the effort and work to make it a reality. To accomplish this, we will need to learn from our past, build on the things we do well, improve in the areas where we must, and listen to the richness and diversity of the hopes and dreams of our citizens. 
I love Fort Worth and cherish the honor and privilege of representing District 9.  I would be honored to serve as our next Mayor and I am prepared to do so.  In these coming days, it's crucial that I speak openly and clearly with our citizens from every part of the city about our future, our opportunities, and our challenges. As much as I love Fort Worth, I recognize that the city sometimes bears down on its citizens instead of lifting them up. But I absolutely believe together, we can build a strong, exciting, equitable future for all of us. Fort Worth should always be a city where everyone feels safe, everyone has opportunity, and everyone can prosper and succeed. 
The hard work and challenges we frequently face in public service are significant, but they are far outweighed by the joy that service gives back to us.  Listening to our neighbors from central, east, south, north and west Fort Worth, listening to our businesses- large, small, established and budding, and listening to the big dreams that all of our citizens have for themselves and their families will be central to my decision about a run for Mayor of Fort Worth.  We must acknowledge and invest everywhere we can as a partner in creating, not just a world class city, but also world class schools that will shape our finest treasure, our children and draw the brightest from around the world to live, work, and play here in Fort Worth.  
So today I share that I am prepared to be our Mayor and LISTEN TO YOU. I invite you to share with me what you need and want from the city you have so generously trusted. I invite you to share with me directly outside the whispers of politics, board rooms and pricey restaurants. I encourage all citizens to bring me your thoughts and concerns from our streets and doorsteps, on the job, in the cafes and I hope from your kitchen table. I want to hear from you.  Getting out safely is tough these days but it will be possible again in our future. But for now, I would like you to go to annzadeh.com, text 817-924-3811 or go to my Facebook page (facebook.com/annzadehcampaign) and let me hear from you and ask me the tough questions.   
Finally, I am so grateful for your counsel and most importantly the love and support of my wise husband and our two sons. 
With gratitude,  
Ann
Fort Worth is Ann's home.  
Like any home, it should be comfortable and safe for all it's residents. It should be clean, well kept and cared for, and welcoming to its visitors. Ann works to make Fort Worth a home we can all be proud of.